April 10, 2021
Categories
Tags
Share
(NEW YORK) — It was not your typical Wednesday afternoon at Industry Bar in Hell's Kitchen this week. Pre-pandemic, you would normally expect to walk into seeing dim-colored lights, people dancing and grabbing drinks at the bar.
Instead, there were tables set up with laptops, boxes of Dunkin' Donuts on offer, and a projection of a graphic that read: "BWAY PHONE BANK 4 MARTI". 
Marti is New York City Council candidate Marti Allen Cummings who had transformed the bar into a campaign phone bank.
Allen-Cummings is an activist and drag artist running for city council in the 7th District in Northern Manhattan. The district runs from 96th to 165th street. If elected, they would be the first non-binary person to hold public office in New York City. 
At the event, some of Broadway's best-known performers and Allen-Cummings' friends gathered with other volunteers to get the word out about the primary election in June. Volunteers were able to participate in person and via Zoom. Before the event, one of the organizers got the volunteers trained and ready to start calling. The phone banking lasted for three hours.
It was a more subdued event compared to the normal Broadway and Drag nightlife typically seen in Hell's Kitchen. Volunteers were in everyday clothes, socially distanced, and wearing masks while they made calls. Tables were spread out with only one caller per table.
Jake Wilson helped organize the event at Industry for Marti. Wilson is best known as a director and writer having worked with artists like Lizzo and the Jonas Brothers.
"I've known Marti for over 10 years as both a drag artist and a political-minded friend," said Wilson. "I've been more personally active in politics the past few years, so when I heard they were running for City Council, I knew I needed to help however I could."
Zachary Booth was one of the several Broadway and television performers alongside Nikki M. James, Andrew Keenan-Bolger, Colton Ryan, and more who were also in attendance at the event. Booth has appeared in several theatrical productions and television shows including FX's hit show Damages.
Booth said that he made about 75 calls at the event. "I found that of the people that answered the phone, almost all of them were receptive to Marti's candidacy.".
"In my experience with Marti, they are a boots (and heels) on the ground type of candidate," said Booth. "So whenever somebody is enthusiastic and has a platform about making their community better, I want to support it. I really think that Marti is one of those people."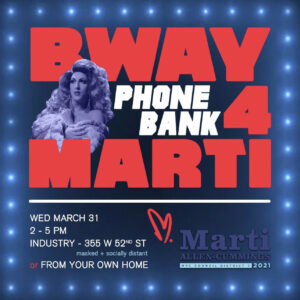 Allen-Cummings is an advocate for LGBTQIA+ young people through the Ali Forney Center and has helped New Yorkers experiencing homelessness. Throughout the pandemic, they organized PPE handouts, grocery deliveries, and coat drives. Allen-Cummings currently sits on Manhattan's Community Board 9 and is an advisor on the NYC Nightlife Advisory Board.
"We have a 51-member city council, and we've had gay and lesbian representation in the state before…which is wonderful, but we've never had transgender, non-binary, genderqueer, gender nonconforming, or bi representation," said Allen-Cummings. "There are a lot of letters that make up our community and they should be represented, too."
Allen-Cummings also spoke about their strong stances on fighting for racial, queer, immigrant, and women's justice. "All of these things tie into housing, healthcare, education, and even sanitation," said Allen-Cummings. "In my district above 107th Street, there are no city-funded composting sites. That is a form of systemic racism because you have Nothern Manhattan not being given the resources that Lower Manhattan is."
"Our country is built on the values of systemic racism, and those values are morally bankrupt. But now there are cameras that capture this daily," said Allen-Cummings. "This is not new, it's just now being talked about in a way that it hasn't been before. Our campaign will continue to fight for racial justice and equitability."
"I hope that no matter the outcome of this election, it will start a dialogue and get people engaged who haven't been before and encourage other people to become part of the political process."