October 30, 2019
Categories
Tags
Share
While growing up Cara Taylor Swift would travel to horse competitions with her family every Saturday no matter how much money they did or didn't have in the bank. If her family won big, her parents and their brood of five children would go to Shoney's to celebrate their cash prize. If there were no ribbons that week, the family ate Cheerios around the kitchen table. Horses are what Swift's family bonded over, and now she uses her years of equine knowledge and training to run Fast Horse Photography, a successful horse photography business in North Florida. 
"Horse people are a special breed of animal lover," Swift said. Horses to the equine community are a part of the family and they want them involved in every facet of their lives. And if you're not a horse person, you probably won't get it. Not only that, if you don't love horses, you won't be able to get customers for your horse-driven business. Lucky for Swift she not only understands the mind of these specifically wired people; she is one of them.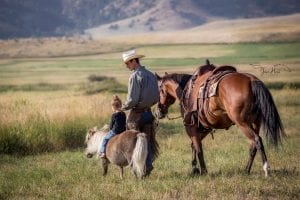 To Swift, horses are a form of therapy. When she's stressed, Swift drives to her barn. "I come home and even my husband will say, 'Wow, you're in such a better mood,'" Swift said. Horses are powerful and sentimental forces to many people and Swift found a service that this tight-knit community desired—lasting memories with their beloved creatures. 
In 2014, after a career of running women's domestic violence shelters for over 12 years, Swift needed a change. The late-night calls and constant traveling were a commitment she could no longer make emotionally or physically. Having given her adult life to helping people in need, Swift decided to throw herself into something cathartic that she had always been passionate about; photography. Coining herself as an "enthusiastic hobbyist" Swift picked up photography in college and was the token family photographer on holidays, but she never had committed to making it a career before. So, in her home of St. Augustine, Florida she began a fledgling photography business ready for clients. 
At first, her intent was to create a customer base that included everyone and everything she could "get her hands-on," said Swift. During that time she photographed families and local events but realized that wasn't where the heart of her business lied. "What I learned really quickly was that as a photographer, the horses came first and that I had zero passion for photographing anything else."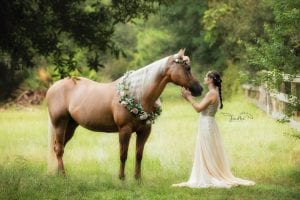 To some people, this horse-only business idea sounds like a niche so small that you could never find enough customers, especially in a town of 14,000 people. Swift's family shared that concern and wondered how her narrow idea would ever be profitable. "Everyone, I think, thought I was crazy," said Swift. "How do you make a business around that?"
In 2015 she went full speed ahead into her horse-only photography business and filed her business legally and registered the DBA (an operating name for sole proprietors) as Fast Horse Photography. She invested in marketing, websites, editing software, and a logo with the creative outline of a horse to represent her company. It's easy to underestimate the initial investment and costs of any startup, but the camera equipment alone cost Swift upwards of $15,000. In addition to the tangibles, Swift's business also required an enormous time commitment. "As a small business owner, you do it all," said Swift. "People think you can make your own schedule, that's not really true, you work all the time."
Like most successful entrepreneurs, Swift is not one to be afraid of hard work and that's clear in the way she has garnered her committed clientele. In a niche market like horse photography, she recognizes that happy customers and word of mouth are key to a successful business. "You have to be real creative in getting in front of your client," said Swift. For her that means doing the legwork of visiting barns and horse shows across Florida to network. She makes an effort to immerse herself in that community so people feel comfortable entrusting her with the investment of a high-end photography package. 
With 60% to 70% of her business coming from referrals, instead of the typical online marketing platform, not only does the final product have to be stellar but the day of shooting has to be an experience. Swift leans into to her expertise of everything equine on the Fast Horse website. "My knowledge of equine behavior and breed standards allow me to capture photographs that are truly reflective of the equestrian lifestyle." And from the online reviews, this kind of training means a lot to Swift's customers.


Swift's art is clean and vividly colored with a touch of joy in every shot that almost seems constructed by magic. Many of her customers speak of her patience. When Swift knows that when she's shooting two horses there will be a brief moment where the two horses, "pasture buddies" as she calls them, will touch noses only for a brief moment. "I can capture a connection between two horses because I know that's going to happen. But someone who doesn't know horse behavior doesn't know what they're looking for."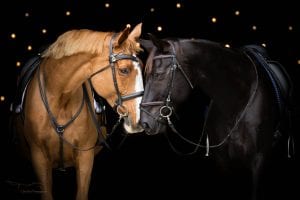 From her second year of business to her third, Fast Horse doubled in gross profits and this year it is projected to do the same. For Swift, price strategizing was the main asset in her company's economic growth. Originally she used to "shoot and burn"— shooting and handing someone a USB of all the photos—but now she creates a chosen gallery of selected images for them to have edited and turned into treasured memories. At her studio you can see all the products and packages available to purchase with a photoshoot. Swift is a believer in giving her customer tangible products so they can enjoy their images every day—and from her customer reviews on Facebook and via her website, her clientele agrees. 
Since 2015, Fast Horse has also expanded from personal shoots to include fine art photography, commercial photography, and stock image sales. Swift takes the time to travel to acquire hard-to-capture images of a wild horse or herds running across open pastures at a working ranch. And some of these shots have taken her work to new heights; the cover of several acclaimed equine magazines, and to her website where she sells large- and small-scale artwork. Just this week, she sold a giant wall mural and a shower curtain featuring her fine art images.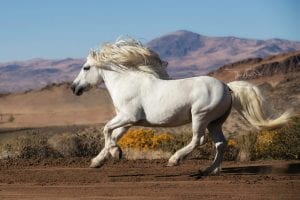 Swift is passionate about her artwork and what it means to her customers. Most of her photoshoots are still personal. "Their horses are important enough to them that they are included in the special moments of their lives." From wedding dress photos with your horse, to graduation photos, to marriage photos and maternity shoots, Swift has seen it all. She even offers a "Remember Me" package for people with elderly horses who are close to passing. One family she recalls had a horse with cancer and she came to them the same day he had to be put down. No matter where she is or what her schedule, is she'll make sure these shoots happen because she knows the love shared runs deep. "I think that's probably the biggest thing is seeing how much it means to the families and what's, what you're doing is bringing them so much joy," Swift said.