(WASHINGTON) – Hundreds of activists and advocates gathered in the nation's capital as the Supreme Court of the United States heard oral arguments on Oct. 8 for three potential landmark cases regarding LGBTQ discrimination in the workplace. 
The justices heard testimonies from workers from New York, Michigan, and Georgia who believe they were fired because they identify as gay or transgender.
According to the organizers of the action outside the court, a few hundred activists traveled from groups that include the ACLU, Reclaim Pride Coalition, The New York Transgender Advocacy Group, VOCAL-NY, Gay Men's Health Crisis and a number of Housing Works affiliates across the country. 
Debora Gaffney, an activist from New York, said she made the trip because, "A population that is already attacked is being further victimized."
About 200 people gathered in front of the court steps. More than a dozen were subsequently arrested for refusing to leave, chanting, "No fear! No hate! No license to discriminate!" 
The first case the Supreme Court heard involved a New York skydiving instructor, Donald Zarda, who claimed he was fired for mentioning he was gay to a customer. Zarda passed away following his termination, but his partner and family have continued to pursue justice and testified on his behalf. 
The second case came from Gerald Bostock, a county government employee from Georgia, who alleged he was fired from his job as a child welfare services coordinator because he is gay.  
Finally, Aimee Stephens, a transgender woman from Michigan, told the court she was fired from the funeral home where she worked for the last six years because of her transition from male to female.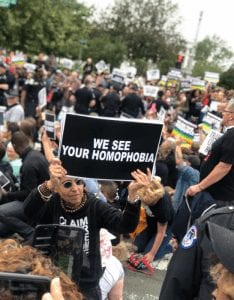 According to Freedom For All Americans, a bipartisan campaign to secure full nondiscrimination protections for LGBTQ people nationwide,  there are 28 states that currently have little or no workplace protection for the LGBTQ+ community, congregated mostly in the south, midwest and west. While a win would have the most impact in these states, even New York, which has some of the country's strongest, all-encompassing discrimination rights, would be provided more airtight assurances against workplace discrimination. 
About 4.5% of the U.S. population, or roughly 11 million people, identify as LGBTQ, of which 88% are employed.
If the court rules in favor of the LGBTQ community, the likelihood of other victories for things such as housing, education, health care, and credit is made stronger. If not, there is a chance repercussions might be felt by more than just the LGBTQ population. Some even believe that the cases affect the rights of those beyond the LGBTQ+ community.
T.W. Collins, an activist and photographer from New York, told The Click: "I find this day to be important because I think people see these cases as though they're going to affect LGBTQ rights only. They don't think it will affect them. But if this should win, it can go farther and evolve how people dress or how people – regardless of sexuality or gender – will be allowed to act in the workplace. There's much more at stake. Not to mention we've had these protections for 25 years."
Unfortunately for all those who are directly impacted by the decisions, and those who attended the rally, rulings aren't expected until next year.
Until then, the entire LGBTQ community, advocates, activists and grassroots groups across the country wait for the decisions and prepare for what may be a long fight ahead.