September 16, 2019
Categories
Share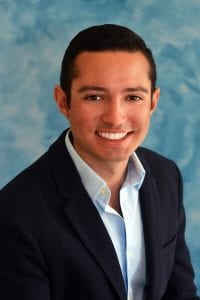 Born and raised in San Juan, Puerto Rico, Alejandro Rosa grew up frequently watching the news and now aims to work as a news anchor for Latino audiences in one of the 48 contiguous states.
Rosa moved to Massachusetts to attend Boston University as a pre-med student but realized he was really interested in broadcast journalism — but he never thought to study it. Being a doctor just seemed to make sense when he was younger, but the track was not working out for him, so Rosa switched his major to journalism.
After graduating from Boston University four years later, Rosa is just starting his journalism career. He is enjoying his first job as a news writer and producer at Boston 25 News. Through this job and a master's program in journalism at New York University, Rosa is looking forward to working towards his dream of becoming a news anchor.
When he is not in the newsroom, Rosa enjoys spending time at the beach when he's home in Puerto Rico. In Boston, he spends much of his free time playing tennis. But for the most part, Rosa is hard at work trying to land himself a gig reporting the news for a major Spanish-speaking station.