September 18, 2020
Categories
Share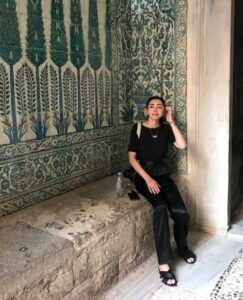 Amina Khan is a Pakistani-American freelance writer and painter based in Dallas, TX. Her work navigates faith and culture with an emphasis on minority storytelling.
Khan has worked as a culture editor at Brown Girl Magazine, a South-Asian media outlet. Her artwork explores religion and the sense of self. Khan finds satisfaction in reading books that challenge her mind and introduce pieces of history that she didn't learn in school. In her writing, she enjoys profiling others, finding out why they do what they do, overcoming life's challenges, how to break out of a "diversity" or "representation mold," etc. For her, journalism is meaningful and purposeful work to shape how people interact with one another. Although she enjoys working as a freelancer, she would like to be an editor or staff writer at a magazine at some point in her life. Partly why she's going back to grad school with NYU is to clarify what her next steps in journalism will be.
Khan also has a passion for traveling and learning about other cultures. She is a homebody who enjoys time with others but finds it necessary to have moments of solitude. Her side hobbies include but are not limited to learning new recipes, finding new mediums to work with as an artist, and watching binge-worthy TV shows. Khan has an adorable black Persian cat who is her whole life. She is also a fraternal twin and has a niece and nephew (also twins), who are equally precious to her life.