September 30, 2020
Categories
Share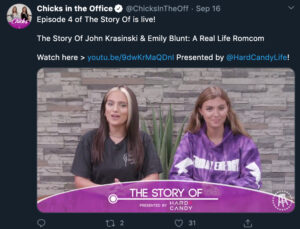 Barstool Sports is a sports and pop culture blog founded by David Portnoy. Much of the content on Barstool is commentary and comedy discussing recent events, games, or gossip, but it has many newsy characteristics such as truth and coverage of timely events.  
Portnoy had a sit-down interview with President Donald Trump over the summer. An interview with a sitting president discussing current issues is an example of harder news than a podcast that takes a commentary or comedic spin on softer news like Harry Styles getting cast in a movie. 
But that's not to say new in areas such as the entertainment business is less journalistic. Barstool owns a podcast called "Chicks in the Office," which is an entertainment podcast run by Maria Ciuffo and Francesca Mariano to cover top stories in pop culture — such as celebrity relationships and breakups — and incorporate guest interviews such as Tyra Banks, actor Chase Stokes, and Bob Saget. 
Based on a set of standards for journalists called the Pew Center's Four Core Principles of Journalism — which includes an obligation to truth, stay loyal to the public, verify facts, and remain unbiased — "Chicks in the Office" upholds many of those. 
Much like newspaper columns or editorials, opinion journalism is still journalism, and in this case, these two hosts are drafting their thoughts on how a piece of art made them feel. Pew's core principles mention "obligation to truth" — this is their truth. 
While gathering their own interviews from celebrities like TV personality Tyra Banks, country singer Kelsea Ballerini, and actress Bella Thorne, they are acting in a journalistic manner to bring new information and insight from the sources to the public. The information they relay to their followers is still factual even if there's a commentary spin. 
Major news publications such as Business Insider, Forbes, and the New York Times, all of which many people would consider journalism publicans, all have sections or branches dedicated to arts, entertainment, film, or pop culture news. Much like many people might consider an opinion article in a newspaper as an act of journalism, a commentary podcast on all things entertainment isn't too different. 
An episode of "Chicks in the Office" on Sept. 14 included television personality Cassie Randolph filing a restraining order against ex-boyfriend Colton Underwood for allegedly stalking and harassing her after their breakup. The episode also covered pop star Harry Styles' new movie deal. While these aren't examples of serious crimes or local news, they're documenting what's happening in the entertainment realm. 
Entertainment journalism covers news and events across industries such as film, music, and other forms of popular culture. The "Chicks in the Office" podcast can be considered journalism for their perception and documentation on events and news in that industry. 
There is a comedic aspect in their podcasts which takes on a different tone from one that is typically used in hard news, but that dances well with the fact that they are covering all things entertainment. 
These episodes are not solely composed of rumors, but on facts confirmed by multiple entertainment outlets, such as Cardi B filing for divorce against her husband Offset and how the Keeping Up with the Kardashians reality show has been canceled after 14 years. They are loyal to the public by keeping them informed on the most recent news with celebrities. An episode titled "Breaking Down Folklore, Outer Banks Season 2 + Demi Lovato Engaged," has a vibe of two friends sitting and talking, as with most of their episodes. They break down Taylor Swift's most recent album, singer Demi Lovato getting engaged and a popular new Netflix series called Outer Banks. Ciuffo and Mariano talk about Swift's newest tunes, from their favorite songs to the meaning behind some of the lyrics. They put into words and process information that thousands of people were also reflecting on at the time. 
The two hosts have more than 121,000 followers on Twitter and 435,000 on Instagram. "Chicks in the Office" is modeled after outlets like E! News, which CNN reported has been canceled because of financial hardship during the pandemic, but was once a leading source for entertainment news. Those searching for entertainment news may have to turn to outlets like "Chicks in the Office" going forward.