November 12, 2019
Categories
Share
Cointiply's Home Dashboard (Source: Michael Haley)
PHILADELPHIA — What kind of person enjoys watching the advertisements before a YouTube video or decides to voluntarily participate in a lengthy survey in order to earn a couple of extra bucks?
A person who is optimistic, yet filled with boredom. I tortured myself with tedious, mind-numbing tasks in an effort to make money — which turned out to be virtually nothing.
Every website you visit on the internet bombards you with unwarranted content from video advertisements on websites you frequently visit to surveys you can opt-in to taking part in sometimes tempting you to put yourself in the running to win the new iPhone 11 or another hot product on the market.
But what if there was a way to guarantee a reward simply by choosing to view advertisements or take surveys in reward for cryptocurrency?
Cointiply is a website where users can earn cryptocurrency coins by viewing advertisements, completing surveys, and even playing games. Activity is tracked by users staying in the web browser for a specific amount of time or completing the survey in a timely manner in order to earn coins. 
Once coins are earned, users can convert them into Bitcoin, the world's most popular type of cryptocurrency, or convert into US dollars. "Some people earn $10/day or so, sometimes much more in a single day but not consistently," a Cointiply Admin named Unnatural told me. "Many users consistently withdraw $100 – $200 a month."
Once I registered for the site, making 100 coins (or 0.000001 BTC / $0.01/with 1 Bitcoin being valued at $9,037.63 at the time of signing up) just for creating an account, I then decided to view a PTC (Paid To Click) ad, which redirected me to a different website where I had to view an ad for 15 seconds to earn 21 coins. If you decide to navigate away from the site, you will not be rewarded the coins and told to stay on the page. 
After giving away 15 seconds of my life to view an advertisement on another way to earn cryptocurrency for free I exited the page and went back to Cointiply's dashboard to see that my account was up 21 coins, as promised.
Having enough of the ads, I decided to complete a survey in order to earn more coins. The survey I completed took about 10 minutes, with random questions ranging from "Do you prefer dogs or cats? Please explain your answer." to "How many hours a week do you spend playing video games?". The survey then led to a section about virtual reality software, then Facebook's Oculus product and then just, specifically, Facebook.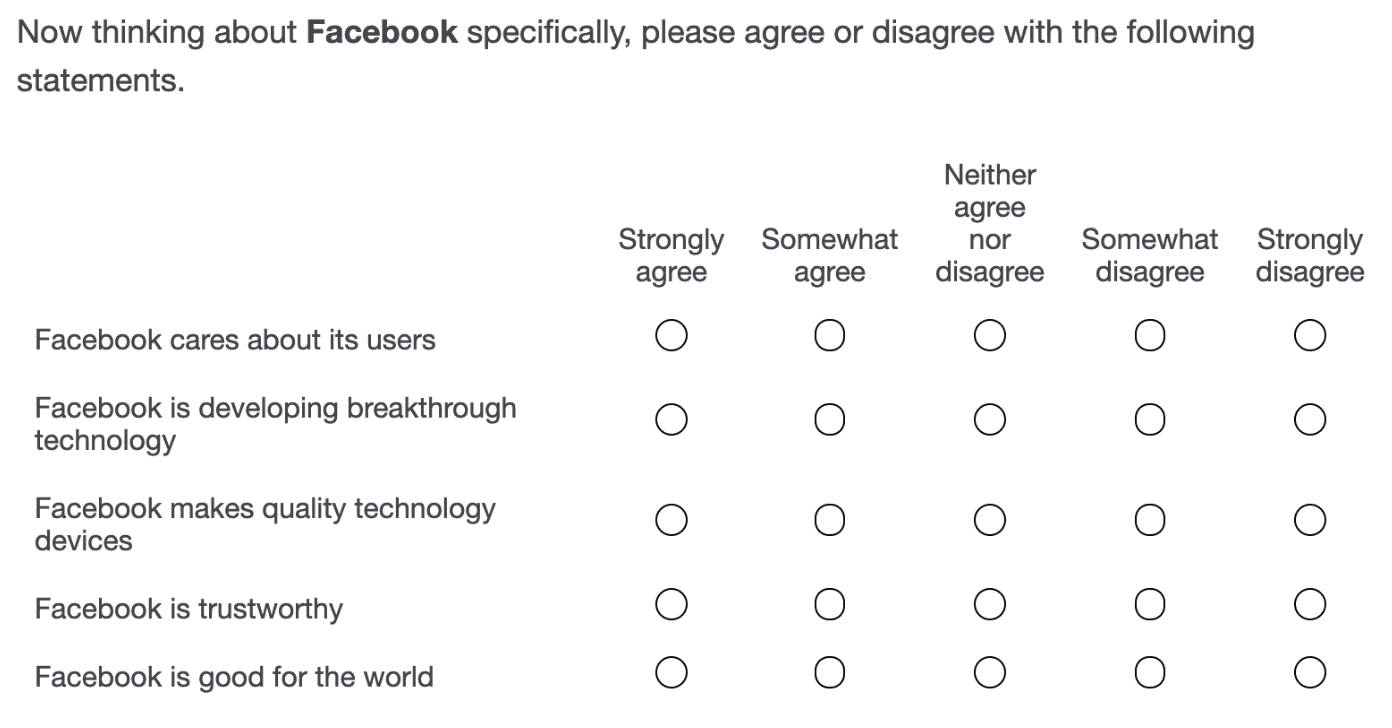 A question about Facebook I was asked in a survey taken through Cointiply (Source: Michael Haley)
Upon completing the random survey, I was awarded 306 coins for my participation and time. I completed another short one which asked questions related to where I frequently shop and what types of items I purchase. Surveys seem to award the most coins with some offering up to 6,018 coins.
Cointiply also has a "Roll the Faucet" feature as well where a random number is randomly selected and depending on what number you roll can win more coins. Every hour you are given another chance to earn. When I rolled the faucet I landed on 59,492 earning myself 22 coins. 
"I do no more than two tasks here, ads and faucet roll," user mowxx said regarding what features he uses on Cointiply.
"Consistently, I'm able to get $40 a week," another Cointiply user TwiztedTonyOG told me.
At the end of my time spent on Cointiply, my wallet balance was 534 Coins (so $0.0534 / 0.00000609 BTC/ with 1 Bitcoin being valued at $9,067.79 at the time of checking my balance) so if any readers have suggestions on where to spend this, I am all ears.
Although I already watch advertisements everyday whether I like it or not, I have no desire to voluntarily do so nor other repetitive tasks in reward for small amounts of Bitcoin ever again. With the reward being so punitive for the menial tasks you are required to do, Cointiply seems more of a time killer than a money machine.