September 10, 2019
Categories
Share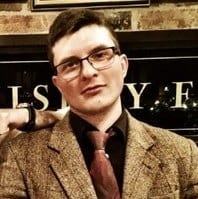 Caleb Bloomfield carries music with him wherever he goes. While he grew up in Brooklyn, New York, it was Prince who colored his childhood memories. Attending a concert with his family, as he watched the musician's lithe fingers dance across piano keys, Caleb was hooked.
By the end of high school, Caleb had performed at venues across New York City, singing with his high school band, The Original Sexy. But like so many musicians, Caleb was yearning to learn more about his craft, driving him to the heartland of American music: New Orleans.
Down South, he found a new medium to express his passion for music: attending live performances and sharing his experiences through reviews told from a musician's perspective. Caleb found he could identify details in a performance that other writers would miss; intimate expositions guided by his long love of music.
Caleb found ways to continue sharing his musician's soul outside of the music industry. As a behavioral therapist working with children on the Autism spectrum, he brings music into the lives of his patients, sometimes helping them say their first words. It is in recounting those patients that Caleb has found a theme central to the lives of so many of America's great musicians: "We wouldn't do what we do if we didn't have hope. It's all about hope."