November 5, 2019
Categories
Share
BOSTON– The night of  October 25 was a relaxing one for Julia Clarke and her boyfriend, until their biggest fear of living next to a busy intersection became a reality.
A car crashed into the window of their Kenmore Square basement apartment in the intersection of Beacon Street and Charlesgate West. 
"We were chilling on the couch watching Law and Order, but next thing I know there's a car coming through the window," said Clarke. "I started screaming and he started screaming."
At around 8:30 p.m. a gray Audi R7 crashed into the corner of 50 Charlesgate West residential building, after knocking down a walk sign pole and hitting a pedestrian. Firefighters, ambulances, and police rushed to the scene. Both the pedestrian hit and the driver were taken to the hospital immediately.
"We always hear cars crashing in that intersection, it's not designed well," Clarke said.
According to a Boston University student who was walking by when the accident occurred, "the driver claimed he was having stomach problems due to food poisoning and was trying to go to the bathroom when he lost control of the car."
He also said that when the driver came out of the car his pants were down. At the moment, police officers were not sure if the driver was under the influence of drugs or alcohol.
Although the identity of the driver was not revealed, observers in the area described him as a businessman in his thirties wearing a suit.
Not only was the front part of the Audi destroyed and the airbags inside the car deployed, but the wall in the interior of the apartment was also cracked and bricks had fallen everywhere.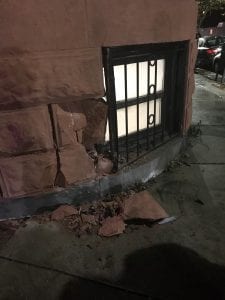 (Exterior of the apartment, Credit: Alejandro Rosa)
"Our house was pristine today," Clarke said. "Now there's shattered glass all over the apartment."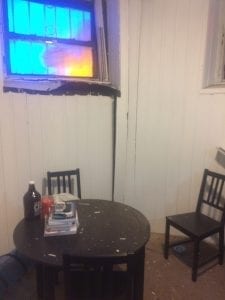 (Interior of the apartment, Credit: Julia Clarke)
Clarke also said that since she moved to the apartment she always feared that a car would crash into their home, "tonight what I feared actually happened," Clarke said.
The morning after the crash, construction was taking place to fix the cracked wall of the apartment.