(NEW YORK) — Nidhi Prakash is a political reporter for BuzzFeed News who is currently covering the 2020 presidential election. She is based in Washington D.C., but travels on a weekly basis. Most recently, she was in Las Vegas to cover a Joe Biden rally, the first for the Democratic presidential candidate since the announcement of the impeachment inquiry into the activities of President Donald Trump. 
Prior to working for BuzzFeed News, Prakash covered health care, criminal justice, race and gender issues for Fusion. She also reported for Metro International and Politico and spent a year with the Australian Broadcasting Corporation. She holds an M.A. in journalism from New York University and a B.A. in journalism and international studies from the University of Technology in Sydney, Australia.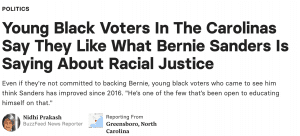 She spent time recently in North Carolina speaking to black Gen Z and Millennial voters about Sen. Bernie Sanders (D-Vt.) and how he's evolved — or hasn't — on racial justice issues since his run in 2016. The piece,"Young Black Voters in the Carolinas Say They Like What Bernie Sanders Is Saying About Racial Justice," was published on Sept. 22, 2019.
Prakash explained that she had been thinking about the voting habits of communities of color, especially young people. It's her belief that there is no shortage of hypotheticals, speculation and polling but very few reports that speak directly to these communities. She also spoke of a perceived generational split – particularly among black voters – and she wanted to investigate whether or not that actually existed and if it did, what beliefs were most polarizing between generations.
She chose Sanders and his campaign events in North Carolina as the subject of the piece due to the amount of criticism he faced during the last election cycle from organizations like Black Lives Matter in addition to various Black activists specifically on his approach to criminal justice reform and a number of social and racial justice issues.
Knowing that these issues have drawn young people of color and generated engagement – especially in recent years – Prakash felt it was important to ask them if they felt politicians, and Sanders in particular, are properly identifying and speaking to the issues that communities of color feel are most integral to a democracy. She was also curious if young, black voters were even aware of the past criticism Sanders has faced and what they thought of the changes – if any – he's made in discussing communities of color.
While Prakash pitched the story to her editor ahead of time, she recalled it was a conversation they'd had many times prior and unlike many other pitches, it was actually rather informal and took very little convincing.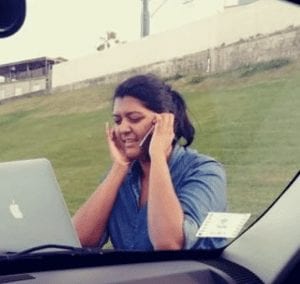 Prakash then flew to North Carolina and immediately went to a rally at the University of Chapel Hill. She remained in North Carolina for a few days and attended a number of campaign events at HBCUs, or historically black colleges and universities, where she spoke to a couple of dozen people at the events — mostly students and young attendees.
She the reporting assignment took longer than she anticipated because she wanted to be absolutely certain that she was properly characterizing the people she spoke with.
While previous pieces have taken only hours to write and publish, she said this piece took a weekend. After taking much of Saturday and part of Sunday to write it, it was finally filed on Sunday afternoon and published that night.
In writing the story, she wanted to be sure readers were able to distinguish between polls of nameless, faceless people and the actual folks on the ground. She sought to explore that disparity and answer whether or not the criticism Sanders has faced originated from shared concerns and not simply media fodder.
Her editor offered an opening paragraph to provide context and tie the piece together, but otherwise didn't change her article.
Though she doesn't often pay it much mind, Prakash joked that the piece spurred, "a total shit show," on Twitter. She believes this was due to a number of replies from recognized activists and advocates for criminal justice reform who have been vocal in their distaste for Sanders. Many of them still believe he doesn't speak to the black community as well as he could. However, the article did garner many positive reactions from Sanders supporters, which she found nice but unsurprising.
Internal reactions were also satisfactory as counter-narratives and pieces that center different and previously ignored perspectives perform very well and are "always appreciated," by audiences and staffers. As the presidential race heats up it's likely that Prakash will be tackling many more articles like this in the coming year.