December 3, 2020
Categories
Tags
Share
An old family photo features generations of the Prieto family back in Cuba. (Credit: Photo provided by Indira Prieto)
On Feb. 26, 2010, Indira Prieto, then 23, crossed Canada's Rainbow Bridge and stood for the first time at the American threshold. Breathless and shaking, she repeated the practiced words, "I'm Cuban, and I'm seeking political asylum." There, she was met with freezing temperatures, falling snow, and the sight of ice formations around Niagara Falls—the first signs of a new beginning for the Cuban native.
Now thousands of miles away from the small island of swaying palm trees and pastel art-deco homes, Prieto was ushered into a packed immigration office and greeted with what seemed like a larger than life American flag. 
During the 2020 election, the phrase "Latino vote" became a buzzword, lumping together generations of nationalities and backgrounds into one category of voters. While some have generalized that Florida's Cuban population is overwhelmingly conservative, Latino voters in the state have been drifting toward the Democratic party for over a decade now. 
"Part of my family are Republicans. I think realistically, it's only the oldest generation of Cubans that fear this idea of democratic socialism," says Prieto. "But my aunt and uncle, who live in Florida now, think that the Republican party will protect their business with economic policies that align with their lifestyle… For me, it comes down to immigration policy."
Speaking over Zoom on the Saturday after Election Day, Prieto is fresh out of a Miami-based fitness boot camp class, exhaustion still visible on her face. While sipping coffee and cracking the shells of hard-boiled eggs, she switches gears to speak about her past and how her longing for a new phase of life led her to America.
"It's very simple," she says. "People in Cuba grow up with the mindset of: what can I do to make my life better? They don't rely on the government for help. They have to make it happen for themselves." A descendent of jewelers, Prieto was the first in her direct line to become a Cuban American citizen. She lives in Hollywood, Fl., and works as a graphic designer while managing her own lettering business on the side.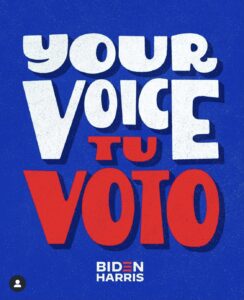 On Instagram, under the handle @theindysign, she showcases her hand-drawn illustrations, which spell out motivational phrases in vivid colors. She uses her platform of over 11,000 followers to spread inspirational messages—written in Spanish and English—that are heavily influenced by her Cuban heritage and hustler mentality. Prieto showed her support for President-Elect Joe Biden and Vice President-Elect Kamala Harris with a red, white, and blue graphic that read: "Your Voice Tu Voto—Your Voice Your Vote."
Choking back emotion and quickly smearing the tears that threaten to roll down her cheeks from the corners of her eyes, Prieto describes her family as a source of inspiration. Her grandparents, parents, aunts, uncles, and cousins all share one roof back in Cuba. "When I was young and someone went to America, it felt like we were burying a family member," she says. "When are you going to see them again? You had no fucking clue."
In 2017, President Donald Trump embraced the RAISE Act, which sought to reduce legal immigration to the United States by 50 percent. "I am trying to bring my mom and grandma over as U.S. residents, and it was like the entire immigration process stopped completely when Donald Trump became president," says Prieto, "I can't afford to waste my vote." 
The 2020 presidential election has made it clear that there is no one-policy-fits-all for Latino voters. Whether it's those who come from the same country, or in Prieto's case the same bloodline, everyone has their own distinct political values.
"My grandma and my mom are the one missing piece in my life here," says Prieto. "I think Joe Biden will bring us the hope of being together again." 
As we wrap the conversation, Prieto peers down at her phone, looks back to me over Zoom, and then yells, "I think Biden just won!"