Some may perceive artificial intelligence to be invasive, or too human-like and creepy, but there are some fields where it may do more good than harm. For instance, as AI technology advances so does its ability to provide personalized therapy to those who need help communicating.
It now has the potential to help individuals diagnosed with Autism Spectrum Disorder (ASD) by helping to develop stronger behavioral and social skills, while simultaneously reducing disruptive ones.
Individuals diagnosed with ASD often have difficulty "using forms of social communication, including verbal skills, eye contact, facial expressions, and body language," explained Dr. Rebecca Doggett, clinical director of the Autism Spectrum Disorder Service at NYU Langone Health.
"There's a lot of variation in autism symptoms," said Dr. Doggett. "Not every person with autism may display the same areas of strengths or difficulties or the same level of impairment in symptoms."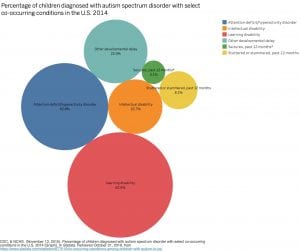 According to a Statista study titled "Autism spectrum disorder in the U.S.", 62.6% of children diagnosed with ASD had a co-occuring learning disability condition, 42.6% had an attention-deficit/hyperactivity disorder, and 16.7% had an intellectual disability.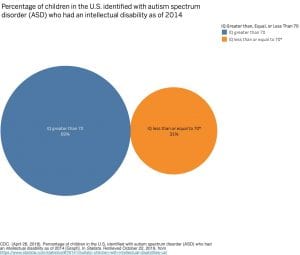 In the same study, 69% of children diagnosed with ASD who had an intellectual disability scored an IQ greater than 70 while 31% was less than or equal to 70.
Individualized Education Plans (IEP) are often needed as the personal connection in learning from another human being for students with ASD. By learning solely with a specialized teacher, is the only effective way to learn rather than a classroom full of fellow students.
Some ed-tech and health-tech startups are leveraging AI to help ASD students strengthen their concentration as well as their social-awareness skills. 
QTrobot is a social robot designed by AI startup LuxAI made specifically for autism students to learn social, communicative, and emotional skills through engagement sessions. The robot makes facial expressions and gestures, teaching students appropriate emotional responses in social settings.
"It is more like a tool for concentration, which allows presenting standard exercises in a more engaging way," said Michael Luiz, a special educator with APEI Thoinville, according to QTrobot. The robot may be more effective because a toy robot makes learning more fun than from a traditional therapist.
Another project, Empowered Brain, are smart glasses that uses AI and augmented reality technology to teach social-emotional and cognitive skills. Autistic users receive feedback depending on different situations they can choose from. Feedback is based on whether they pick up on if a person is happy, surprised, or sad. AI technology opens new doors for those with ASD not just at an early age in school, but as they prepare for real-life situations they will face in adulthood.
In "Opening New Worlds for Those with Autism: Technology Is Creating Great New Possibilities for Those on Every Part of the Spectrum", David L. Chandler states that technology benefiting those with ASD. "Apps to assist with communication for those who have limitations of speech due to autism-spectrum conditions or other special needs span a wide gamut, and they continue to improve rapidly."  The individualization needed for those on the spectrum acts as a basis for the AI-related technology as it tries to strengthen the attention span and concentration of those using it while also teaching stronger behavioral skills. 
When it comes to how AI can help students with special needs, researchers and developers have only scratched the surface. The more AI research focuses on health and education, the more it can assist kids with ASD to develop important social, behavioral, and emotional skills that may have been challenging to pick up on before.
"The potential for improvement in the lives of people across the spectrum of autism disorders continues to expand," Chandler concludes. "New tools are helping enhance the lives of those who have mastered the basics of communication and interaction and hope to develop further skills in schools, the workplace, and in social relationships."