NEW YORK— At 15 years old, Nadya Okamoto and her family were homeless in Portland, Oregon. Okamoto, on her two-hour commute to and from high school, began speaking with women who — like her — faced a problem they were too poor to properly treat: their period.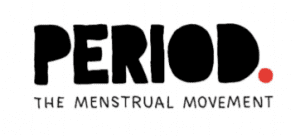 Now in her second year at Harvard University, 21-year-old Okamoto has pioneered a period protest of national proportions that recently culminated in a day of action across the country. On October 19, thousands gathered with the team behind Okamoto's brainchild, PERIOD, a 501(c)(3) nonprofit that boasts chapters on over 400 campuses in all 50 states and over 30 countries and provides educational workshops in an effort to destigmatize menstrual inequality and launching initiatives to fight for systemic change.

On Saturday afternoon, rallies were held in all 50 states to wage war on the tampon tax – a term that refers to the extra amount women are charged for feminine hygiene products among other necessities – and the accompanying sacrifices women are forced to make due to an inaccessibility to them. 
In the nation's capital, hundreds gathered with Okamoto and with lead organizers outside New York's City Hall Park. Brandishing signs like, "Anything you can do, I can do bleeding," and "Normalize Periods!" protesters were in high spirits as they heard from New York State Assemblymember, Linda Rosenthal — a longtime advocate for a ban on the tampon tax – and artist Ada Reso who raises awareness for period inequity by painting with her own menstrual blood.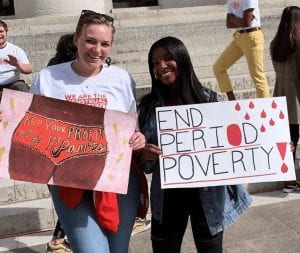 But it wasn't just major cities with impressive turnouts. In Columbus, the Ohio State University chapter of PERIOD gathered before the Ohio statehouse and less than one week later, a measure to eliminate the tampon tax cleared the Ohio Senate in a 30-1 vote after unanimous approval in the Ohio House. It now awaits a signature from Governor Mike DeWine. Today, it still remains unsigned. 
Kaleab Mammo-Jegol, a sophomore at Ohio State and the event's Promotions and Outreach Coordinator, was thrilled with the win.
"This isn't just about period poverty. It's about socioeconomic disadvantages, misogyny, racism, queerphobia, and every other issue," Mammo-Jegol told The Click. "I believe in work that recognizes the intersections between different oppressions and privileges that could make someone's lack of resources possible. This is an organization that does that."
The organization is determined to nab more victories like the one in Ohio through advocacy, education, and service. While few have passed legislation that prevents the tax from taking effect, 35 states have been unsuccessful as period products still fall under the definition of "luxury items."  According to Period.org, in some states necessities exempt from luxury tax include bingo supplies, cotton candy, erectile dysfunction pills, gun club memberships, and tattoos.
According to the first major city-wide study on period poverty in the US, it's estimated that in St. Louis alone, one in every four women struggles to afford menstrual products due to lack of income. Additionally, the survey found that 46% of low-income women were forced to choose between meals and period products. 
Already recognized by presidential candidates Sen. Kamala Harris, former U.S. Secretary of Housing and Urban Development, Julián Castro and Sen. Cory Booker, PERIOD seeks to further engage with candidates about menstrual inequity ahead of the 2020 election. Also on the slate is the organization's second annual convention, PERIOD Con 2020, which will convene activists, influencers, brand representatives, legislators, and more in the place of its conception: Okamoto's own Portland, Oregon. 
Until then, she's focused on teaching the country – and perhaps the world — whether or not they bleed — there is power in a period.