December 2, 2019
Categories
Share
Credit: "Habits of a Champion"/Dana Cavalea
Dana Cavalea, former director of strength, conditioning, and performance for the New York Yankees, is now a high performance and executive leadership coach.
Dana Cavalea wants everyone to develop the habits of a champion.
The former director of strength, conditioning, and performance for the New York Yankees has worked with the legends Derek Jeter, Alex Rodriguez and Mariano Rivera.
Cavalea was with the organization for 12 years, and served in his director role for seven of them. As coach he led the team to a world championship in 2009. 
And it wasn't just physical shape he promoted. Cavalea encouraged positive mentality in his players, which in turn inspired two published books and his current career as an executive leadership coach.
"It's about taking the competitiveness of sports, the management of a goal and getting people all focused and aligned to that," Cavalea told The Click.
Cavalea has moved on from athletes to CEOs, executives, and hedge fund workers in teaching them appropriate mindsets to achieve their highest expectations.
"Much like an athlete, it's, 'How do [you] get to [your] best self, navigate financial decisions, managing team culture of the company – while managing themselves within all that.'"
Cavalea blends life coaching with performance coaching,  similar to what he did at the New York Yankees organization at the highest level.  He does this through his signature "five drivers of performance" which include, mindset, training, fueling, recovery, and influence.  
"We all walked away with a better understanding of just how crucial work-life balance is and changes we can all personally make to bring our best selves to the office each day," said Sarah Pottieger, an HR generalist for marketing company, Madison Logic who attended a session led by Cavalea. 
Cavalea also gets on a personal level with his clients, leaving it open for them to discuss family issues.
"When I was with the Yankees, I was only able to influence the 25 players that were in front of me, where now, I have a much larger audience," he said. "I definitely use my experience back with the team in order to capture the ears of these people that need this type of coaching."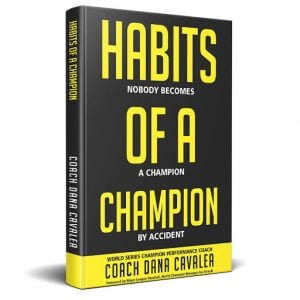 Credit: "Habits of a Champion"/Dana Cavalea
In his book, "Habits of a Champion: Nobody Becomes a Champion by Accident," Cavalea shares stories from the greatest of greats in sports, life, and business. The foreword is written by former New York Yankees manager, Joe Girardi.
"Dana has been the guy that has kept me healthy most of my career," World Series Champion Alex Rodriguez said in a press release about Cavalea.
Cavalea also penned a children's book series, "Champion Kids." The first book of the series titled, "Johnny The Jet Saves The Day," is a story about overcoming bullying.
He plans on releasing a second book, "Girls on the Run," with advice for young women in sports.
"I found there to be somewhat of an epidemic going on where people don't have confidence…it starts when you're a child and the things you experience as a kid," Cavalea said.
"Every kids book teaches a lesson of some kind," he added. "Instead of creating a fun, cheery story I created a personal development book for kids to develop a champion mentality."