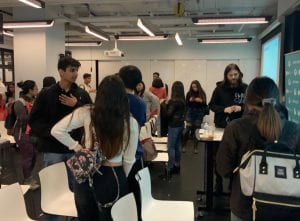 Photo credit:  Judi Polanco 
Students filled the Leslie eLab at New York University's Entrepreneurial Institute on October 24 to learn the answer to one question: what does it take to get accepted to the Startup Sprint intensive program for entrepreneurs?
Rebecca Silver, associate director, held the Startup Sprint Information session for the two-week intensive program offered to aspiring entrepreneur teams as they launch their startups.
Frank Barish Horowitz, who founded five companies during his time as a student of New York University, has benefited from the program.  "The connections and mentorship offered is priceless according to Horowitz.  "I've met my mentor, Kyle Bergan, and countless partners exclusively here." Horowitz's suggestion to students interested in becoming entrepreneurs to "take advantage of the resources offered at the institute now!"
As part of the selection process, entrepreneur teams are encouraged to apply to this two-week intensive program to learn about how to launch a venture while being offered expert startup coaching, funding, training and community support to help build a business.  A few of the qualifications needed to participate include having teams of two or more and making sure that, at minimum, one of the co-founders must be a student, faculty or researcher from New York University. Female or under-represented founders are highly encouraged to apply.   Selected teams will receive a $1,000 grant, $5,000 in perks in addition to daily coaching and working alongside other startups.
For Emily Long, founder of PivoTtag, going through the startup experience was the best decision she made for her company.   "As founder, it pushed me to get out of the building and actually talk to people that I otherwise would not have done." Emily highly recommends it to everyone.  "It's one of those things you won't regret!"
75% of startups fail to return investors' capital, while 42% fail because there is lack of market need, according to Silver. The startup training assists in increasing the chances for a startup to succeed by making starting companies less risky.  In the Startup Sprint two-week training, teams will gain experience getting customer feedback before building and launching their ideas.
Startup Sprint trainings are held in the winter, and in the summer, when regular classes are not in session. Silver states that, "even if you don't get accepted to the program this time, come in for coaching and apply again." Entrepreneurs have access to one-on-one coaching and numerous programs that will assist in pitching, fundraising and growing a team. Sergel Revzin who is a coach at the entrepreneur institute states one-on-one coaching is an important resource offered. Revzin said that in his experience it has been  "great working with founders! The group is eager to learn and very coachable, applying what they learn immediately."
Reyna Bhandari, an aspiring entrepreneur with an app idea that will revolutionize the way doctors and patients manage pain, said that she found out about the Leslie eLab during her welcome week tour at NYU. "They offered to work with me and help me find a team to develop the app." Her advice to aspiring entrepreneurs who need help developing a business idea is to ask themselves "what is something that you have heard other people complain about more often than not? Pause, think about it again, approach it from another angle, and voila, you might have an innovative idea to improve the lives of others. Modern-day society, especially NYC, promotes a culture thriving on convenience, accuracy, reliability. People are always looking for newer, better, faster. So, think about an idea, whether the effect is minuscule or magnitude, and use the Leslie eLab to see if it has the potential to make a difference."
The Leslie eLab located at 16 Washington Place is available to aspiring NYU entrepreneurs across all NYU's schools. The facility can be used as a co-working space for meetings and events of developing startups at all stages. No startup experience necessary. NYU students, faculties and researchers are encouraged to visit.