September 19, 2019
Categories
Share
Grace (Sui, 隋 sui 聪 ) Cong, may have arrived late to inaugural class of NYU's American Journalism online masters program, but she's certainly no stranger to storytelling.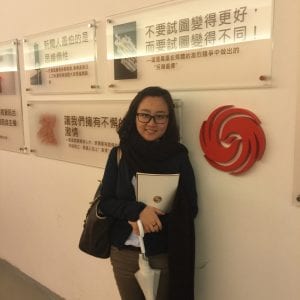 After earning a degree from the China Agricultural University in Beijing, Cong went on to become an on-camera reporter at Phoenix Television, a Chinese news station and reported breaking news, in addition to the state of the local economy. While she found it fulfilling, it inspired a deeper desire to further her education in journalism – both in and out of the classroom. 
In 2016, Grace decided to move to Los Angeles to try her hand at American reporting. She found some success and began contributing to a number of publications, her favorite being BLEND, an online news outlet where she covered her preferred topics: education, immigration and economics.
Ultimately, she came to the conclusion that to become the kind of reporter she admires – a person like Anna Chan Chennault, a Chinese reporter and lobbyist – she will likely have to strengthen her English and better hone her skills to become a more dynamic reporter. It's her belief that this program will help her achieve just that. 
A recent story that affirmed her passion for journalism are the protests in Hong Kong, as it's a city she has come to love, both personally and professionally. 
"It is a city of hope, opportunity and challenge. Now, nobody wants to go there anymore." 
A year from now, Grace hopes to be the one to cover stories like these – both in China and the United States.