November 13, 2021
Categories
Tags
Share
(HILO,HAWAII)– Hawaii Chef Louis Pauole said he knew he was taking a risk when he decided to open a restaurant in the middle of a pandemic, but he did it anyway.
"I gambled on myself, knowing it would be successful," he said.
Pauole opened Izakaya Miyo in September of 2020 in Hilo, a city on Hawaii Island's east side. During that time, Hawaii was shut off from the rest of the world due to COVID-19 restrictions, and local mandates narrowed dining to only six people at once.
With a limited market, Pauole had to be creative. He went with the name and concept of Izakaya, which means small plates with drinks in Japanese. Patrons get just that, as well as a front row seat to Pauole's cooking, giving guests a true chef's table experience. The menu is peppered with hard-to-find items, matched with local ingredients at high price points to meet supply.  
The support of the local community contributed to the restaurant's immediate success, and Pauole said they were booked for several months straight. 
"Everybody wanted to get out and everybody wanted to eat. It gave people a sense of hope and normalcy," Pauole said. 
But there's nothing "normal" about the menu.
Pauole's culinary style is innovative, advanced, and clean. He surprises guests by using unique ingredients. From imported fresh, Japanese fish, to one-of-a-kind garnishes and expensive sakes, Izakaya Miyo is raising the bar in terms of East Hawaii cuisine. 
"Whatever I can get my hands on that is very unique, that nobody else is doing, that's what I want," he said.
Since 10 years old, Pauole's been cooking. He's fought to get where he is today, literally. For years Pauole worked as a professional fighter while following his passion of cooking. 
He graduated from The Seafarers Harry Lundeberg School of Seamanship with a culinary arts degree and served multiple tours on cruise ships as a cook and chef before returning home to Hawaii.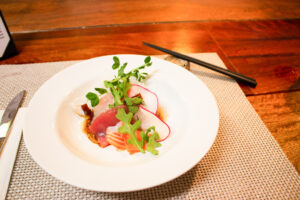 Japanese style smoked sashimi trio with ponzu jellies – Ahi, Hamachi and Salmon. Photo by: Megan Moseley
Izakaya Miyo is located in the back of Pauole's other restaurant, Miyo's. Miyo's is a Hilo staple and has been a part of the community since the 1980's. Pauole said he worked there for many years before purchasing the restaurant in 2019. He added Izakaya Miyo to the back of the original Miyo's restaurant, and regulars are enjoying the expansion. 
"I love the sashimi. The fish is fresh. It's a nice place, and the workers are friendly. Louis is a very friendly gentleman who knows how to draw a crowd," said Nancy O'Connor Nishihara, a regular at Pauole's restaurants. 
His wife, Felisha, who also works in the restaurant, says it's been a beautiful experience growing the business and her family with the support of their regular guests. 
"This island community is unique in the way that we build and grow together, " she said. 
Izakaya Miyo now seats up to 12 people, and is open Tuesday through Friday. You can book a reservation online at https://www.izakayamiyo.com/home.