(SECAUCUS, N.J) — Located just outside Manhattan, Secaucus has long been regarded as a shopper's paradise with more than 60 factory outlets at its peak, all competing for New Yorkers and bargain hunters from the tri-state region.
With an influx of new residents and a shift in the retail economy, that is changing.
A significant number of brands have closed their doors over the years. At the Harz Way and Harmon Cove, two of the largest shopping centers in the town that once carried big names like Gucci and Lenox, 19 major stores have shut down. 
Although there's no official record of the outlets that come and go, Secaucus Mayor Michael Gonnelli believes a third of the 60-plus outlets in his town have closed.
"The outlets are not here anymore. They [are] really going away quickly," he told The Click. 
It's the shift that Yenny Pena felt when she lost her job in 2015. 
"Two stores closed on me. I got scared and stopped applying[for jobs]," Pena said, referring to Jones New York and Escada, two stores where she worked for a total of 12 years before they shuttered. 
According to Chain Store Age, Jones New York closed all of its 127 outlets in 2015, including its Secaucus store, to pursue strategic alternatives for the brand.
Outlet shopping, once a popular American pastime, is becoming less so as more consumers purchase clothes and household goods online.
Amazon launched its outlet-undercutting Luxury Stores online brand in September 2020, enticing shoppers with two-day shipping. 
The pandemic only made things worse as stores closed when COVID-19 cases rose, or they limited the number of shoppers who could come indoors. 
The online market for second-hand fashion has also seen an increase. In its 2020 Resale report, ThredUp, an online consignment and thrift store where customers can buy and sell second-hand brand clothes, reported that shoppers spent 2.2 million hours browsing its digital store in May, a 31% increase post-COVID.
Despite the shrinking outlet industry, Secaucus is seeing growth in other areas. The town with an estimated 21,000 people, has witnessed a steady influx of new residents seeking affordable homes near New York City.
 "It is growing, yet we preserved the small-town feel," said Raj Pardasani, a community organizer and women's apparel business owner and distributor who commutes to New York. "Its proximity to the city [New York] is fabulous, and yet when you come home, it has a country feel." 
"The Jewel of the Meadowlands," the town's official slogan, adorns welcome signs
at Secaucus's parks, marsh trails, and scenic swamps along the Hackensack River. Pardasani lives in Harmon Cove Towers, the town's tallest building and one of its most visible landmarks. The 25-story residential building stands next to the Hackensack River with clear Manhattan views. Nearby is a
mile-long walking trail along the river for a tranquil stroll or jog interrupt
ed only by chirping birds and squawking ducks. 
But not everyone is happy about Secaucus's newfound popularity and the expansion of residential developments. Some residents worry about overcrowding as new residents move in. 
"This can't be happening. I'm so tired of this," Pam, an online user, wrote commenting on a Jersey Digs story about a 116-unit development plan for the town in 2019. "Where are they going to school? What about traffic? Police, fire departments?"
When
Jersey Digs
published another article about a new proposal for a 25-story residential tower by XChange at Secaucus Junction, a reader wrote, "I'm all for transit-oriented development, but infrastructure need[s] to be considered before shovels are put in the ground."
Gonnelli, then-commissioner for Meadowlands Commission, was initially against the Xchange project. 
"I thought it would be worse on fire, police, you know EMS. Obviously, now it is here, and it is really not that much of a burden for us," he said.
Xchange's development, when completed, will bring the number of units in the complex to more than 2,000. By contrast, the Harper at Harmon Meadow, which opened in 2017, has 469 units. 
"I don't know what that is going to do for us, and we have to wait and see," the mayor said, referring to the new Xchange expansion, "but I did think it was too big of a development for this town." 
Still, Gonnelli insists the increase in residential interest is not affecting school enrollment and road congestion. 
"As far as the kids, we are actually a hundred less kids than we were four years ago," he said, shrugging off the concerns about overcrowding. 
He added that most of the new residents are younger families with only one or two kids or unmarried professionals who like the affordable living and short commute to New York. 
Changing with the times
Secaucus was not always a shopping mecca.  From the early 1900s through 1950, the Hudson County town was renowned for its expansive pig farms. 
Secaucus's turning point came in 1969 when Hartz Mountain Corp. bought 750 acres on the Hackensack River for $10 million for residential use, and the town branded itself as an outlet hub, according to a contemporary account from The Washington Post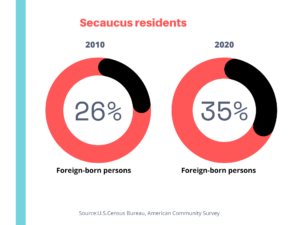 A pie chart showing the demographic change in Secaucus over 10 years. [Credit: Tigist Geme]Gonnelli says the town's Indian-American p. 
Secaucus is now one of the fastest-growing cities in New Jersey.  U.S. Census Bureau data shows an increase of more than 5,000 new residents since 2010. The town has embarked on a redevelopment plan to accommodate the residential demand. The Xchange at Secaucus Junction residential complex is just a half-mile from the rail station. To sweeten the deal, the landlord offers residents the option to take a shuttle to the Secaucus Junction rail station for 25 minutes commute to Manhattan or a ten-minute train ride to Newark, N.J.
"The train station we have is a hub which is so good," said Pardasani, who last year moved his business online due to the pandemic. He now works from an office located in Harmon Cove Towers.
Secaucus' rebranding as a commuter-friendly destination is being noticed. In 2015, the New Jersey Monthly magazine ranked Secaucus 19th on its annual Best Places to Live list.
The town's demography is also changing
"I think the old-time community is gone now, and it is more of a progressive new community," Gonnelli said. "It is a great community. We are totally diverse."
According to the U.S. Census Bureau, foreign-born persons constitute about 35 percent of the town's population, a nine percent increase from 2010.
opulation is growing and balancing the aging population. Of the 28% Secaucus American-Asian population, 15% are Indian. As a visible and symbolic sign of the changing demographics, in 2001, the Indian-American community in Hudson County opened a Hindu Temple in Secaucus. 
The demographic transformation has always been part of the town's growth. Secaucus, founded in 1900 on land that was once a part of New Netherland, the Dutch colonial community in North America, was originally home to Native Americans. The name Secaucus means "place of snakes" in the Algonquian language. 
A new industry for a new era
Secaucus is also attracting a new kind of industry. Gonnelli says more data centers are moving to the town, helping the municipality diversify its revenue base. 
"It is really good because they generate a lot of taxes. They make money, and they share it with us," he said.
The town strives to strike a balance with 70% of its land designated as an industrial zone while preserving the remaining 30% in the center of the town as community-based residential or service areas. 
The socio-economic impacts of these recent changes vary as well. 
For Pena, who grew up in Dominican Republic working in her family's shop before migrating to the U.S., Secaucus outlets' job was a dream job. 
"I loved working in Secaucus and meeting new people every day," said the mother of one, who now works as a bus aide for the Cliffside Park Board of Education. "I love talking to people. I miss my customers."
Pardsani, a pro-development resident who promotes the city by giving away free shirts (and masks during the pandemic), argues that the decline in outlet business is not an issue for Secaucus as the town is attracting other retailers. 
"Walmart, TJ Maxx, Marshalls … all these places moved in recently," he said.
According to
U.S.Bureau of Labor and Statistics
data from March 2021, Seaucus's unemployment rate is 8.3%, five percentage points higher than its pre-pandemic level and higher than the state average, which is 7.7%. 
On a recent Saturday afternoon, a woman sat on a bench near an empty parking lot at Designer Outlet Gallery, a building that once housed 15 brands across from the Hartz Way. Names of outlet stores have been removed from the billboard. Across the street, a sign for the Gucci outlet, which closed during the pandemic, is still on display, signaling the gradual fading away. 
A man emerged from the outlet center, pushing a recycling bin.
"Nothing is in here. It is vacant," he remarked, pointing at the walls covered by dusty cobwebs. The man did not want to give his name but said he grew up within walking distance from the outlet center. "I don't miss the outlet stores," he said. "It is a different time."
Across town, bulldozers are leveling the construction site for a 25-story residential tower XChange at Secaucus Junction is set to build, signaling the future of Secaucus.