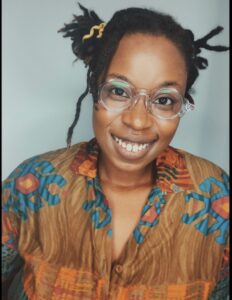 (Image: Tiffany Renee Thompson)
(NEW YORK) — The coronavirus pandemic has stopped millions of people in their tracks. But not Tiffany Renee Thompson. At least not for long.
Thompson, an actor and arts worker, was hit hard by the reality of the theater industry shut down due to the pandemic.
"I was literally in my bed 24/7," said Thompson. "Never left my house unless it was to throw out the garbage."
But then, Thompson saw a friend post a picture of himself in a sweatshirt on social media, and her mind started turning. "I thought, "Oh that's mad cute. I can probably acid wash that." 
Thompson's history of acid washing clothes goes back to her late teen years. Seeing her friend's post inspired her, and Thompson jumped at the opportunity to step outside of her comfort zone. She worked her magic on her friend's sweatshirt, did a photo shoot, posted on social media, and suddenly people all over wanted their own acid-washed gear. 1865 Vintage was born.
Q: We're all aware of the power of social media and the share button. You started your business with a simple Instagram post and it exploded. Were you anticipating it to take off the way that it did?
A: Not at all. Not even a little bit. Honestly, it's really been the kindness of others, people believing in me and supporting what I was doing and sending it to people. And just going out of their way to give me resources and help promote it. I wasn't expecting that at all. That came as a huge surprise. 
Q: Your business has put you in a bit of a spotlight on social media. You've been the subject of racist and derogatory remarks, like the N-word, on your website, which you have publicly posted to bring attention and awareness to the racism that Black people deal with on a daily basis. Can you speak to how this has impacted your business? What kind of response did you receive when you posted those screenshots?
A: The first time I posted, funny enough, I ended up having more people promoting my business because of that. They turned hate into love. It was really sweet of people and encouraging. And it also was just people being shocked. Because I was shocked when I saw it. I was like, "Did someone really do this?" And then when it happened a second time I was like, alright. (She laughs) 
Now, unfortunately, I have a sense of fear when I go to check my reports to see who put in an order. Because now I'm always like, "Is someone else going to say that, call me that again?" It reminds me that these people exist, but they're not going to get the best of me. I'm going to continue being who I am in spite of how people decide to do something that stupid.
Q: Many actors and theater industry professionals have side hustles to help stabilize their careers. Do you plan to grow and scale your business, or will you maintain it as a hobby/side-hustle?
A: Aside from being an actor, a thrift shop is something that has always been part of my life, and something that I've always wanted to be part of my journey. So I want to continue it and grow it, and hopefully have a partner, and find someone in business that can actually give me the tools and understanding. I was a business minor but I dropped it because I was like "Math? I don't like it." My hope is that I can continue and then to also venture more into what I want to do, which is thrifting and also providing a space for other Black artists to sell their own creations.
Q: During a time when so many people are struggling with uncertainty in the future, how has the business helped give you direction? 
A: It taught me that I kind of have to really roll with the punches and that I'm capable of doing something else other than being an actor or being involved in the theater industry. Even when I wasn't an actor, I was still working within the industry. My entire life was in the industry. So to have something that has nothing to do with theater at all, that's still creative, has been really rewarding. It's so important to have that separation. To have something else that brings you joy. There's still that fear of "Why can't I have both?" There's nothing wrong with saying, "I'm an actor. I'm an arts worker. And I'm a curator of clothes." It's dangerous to only have one thing that fulfills you.
Q: What message or advice do you want to send as a Black womxn-owned business to people thinking about starting a business?
A: Honestly, truthfully, just do it. It sounds so cliche but despite the voices … just do it. If you're proud of what you do, that's what matters. If it's well-received, it's well-received. And if it's not, it's not. But if it makes you happy and you're passionate about it, you do it. Not everything you do has to be for everyone. Some things are just for you. 
To learn more about Tiffany Renee Thompson and 1865 Vintage, follow @tiffanyrenee_t on Instagram.