September 18, 2020
Categories
Share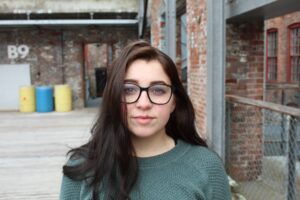 Kaylee Pugliese is a multimedia journalist passionate about writing, photography and videography — and she hopes to use those skills to save the planet. 
She enjoys telling local stories of environmental issues, politics, music and its place in the world, social justice and human equality. Her greatest dream is to create a documentary on the climate crisis. 
She is a member of the class of 2019 at Roger Williams University with a Bachelor of Arts in Journalism and a double minor in business and music. She was awarded the Roger Williams University 2019 Journalism Student of the Year award and is a member of Lambda Pi Eta, the National Communication Association.
She currently is a reporter and photographer at Western Mass News, an ABC/CBS/FOX affiliate station in Springfield, Mass. She was formerly a reporter at the Republican-American in Waterbury, Conn. She has bylines in publications including Spare Change News in Boston, where she covered issues on social justice and equality, and in the Newport Daily News in Newport, R.I., where she covered lifestyle stories and local news. 
During her undergraduate career, she interned at Rhode Island Monthly magazine, C-SPAN in Washington, D.C., and at WPRI-TV in Providence, R.I. During her time at Roger Williams University, she was the secretary for Rhode Island's only student chapter of the Society of Professional Journalists. She was also the News Editor for the Hawks' Herald, the school's student-run weekly newspaper. From these experiences, she has acquired skills in reporting, interviewing, photography, and both audio and video editing. 
In her free time, Pugliese can be found reading, performing live music, reminding people to recycle, and spending time with friends and family.