Little Free Library box stationed at Hilldale Mall in Madison, Wis. (Photo by Megan Jarrett)
MADISON, Wis. — Engaging the hearts and minds of readers around town, Little Free Library boxes can be found spreading free literature across the city of Madison, Wis., supporting the "take a book, leave a book" idea.
Little Free Libraries are free book exchanges opened by individuals or groups in a community. As standalone units, ranging from small boxes to walk-in hollowed out trees, these libraries are run voluntarily by the community rather than a paid library staff funded by the government.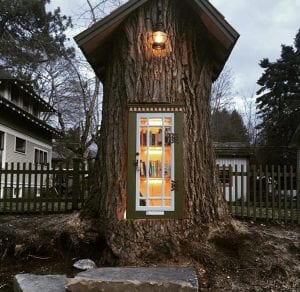 Coeurdalene, Idaho (Photo by @carolina_dawn)
In 2009, Todd Bol set up the first Little Free Library (LFL) in Hudson, Wisconsin, placing a box-sized schoolhouse replica on a post in his front yard to honor his mother, according to the nonprofit's website.
Margret Aldrich, media and program manager at Little Free Library and author of "The Little Free Library Book," explained to The Click that when Bol saw the impact that a small, wooden box full of stories had on his neighborhood, he wanted to share the concept with others around the world. Statistics published by the nonprofit show that the program has indeed grown rapidly. Today there are over 90,000 registered Little Libraries in 91 different countries.
When asked why she thought the concept grew so quickly, Aldrich said "Books are something that really strike a chord with people; that wish to connect with your community and the people around you. If you're a book lover, you connect with the concept right away. The love of reading and the love of books and the wish to connect with people around you are universal."
Five-year-old Logan Brinson gained national recognition when NBC's Today covered Logan's Little Library. After moving to Alpha, Ill. and realizing that the town did not have a public library of its own, Logan and his family opened up their own community Library in their yard. As a book-lover himself, Logan wanted to share his passion with his neighbors.
In "Little Free Libraries: Playful Anarchy and the New 'Public' Library," published by the International Journal of the Book in 2017, Cayo Gamber researched the motivation behind individuals who open Libraries, otherwise known as stewards. Gamber learned that most stewards open their Library because they themselves interacted with one and want to share that same experience with their community. 
Gamber's findings are in line with Aldrich's vision for LFL, which she summarized as a desire to keep growing the programs that support communities in need. She wants to get books to places that don't have them, much like Logan and his family did for their Illinois neighborhood.
When asked what community impact she's seen, Aldrich told the story of a woman in Chicago who started a "literacy revolution" in her neighborhood when she applied for a free Library box through the Impact Program. She continued setting up additional libraries throughout the city after she saw the impact it had on reading motivation by simply providing easier access to books. 
Many communities find success through partnering city libraries with Little Libraries nearby to get books that are being recycled from the city library into a Little Library around town. 
The Madison Public Library has a robust partnership with local volunteers and Little Libraries to make sure no books go to waste and to provide easier access to literature for those who may not live within walking distance of the Public Library.
Summing up her experience from working with Little Free Library, Aldrich said: "If you're a book person and you see a Little Library, you just get it. You fall in love right away. A library can not only build a community but also provide book access". She later added, "It's really wonderful to see when one person and one Little Free Library can spark a whole community to care about reading and care about literacy."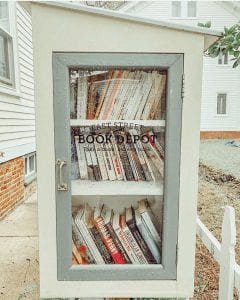 "Our library isn't very extensive, but every book in it is a friend"
(Instagram caption and photo by @alexs.bookgram)