September 16, 2019
Categories
Share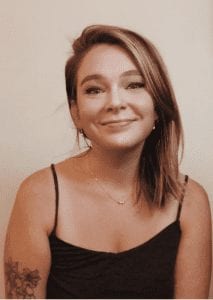 Lindsay Rogers hails from Saratoga Springs, located in upstate New York, and has big dreams of covering the world of global fashion and style. Rogers went to SUNY Oneonta and the Fashion Institute of Technology (FIT), where she studied Fashion and Textiles and Fashion Merchandising Management, respectively. As a young and thriving fashion student, she sought out an internship at an independently owned fashion and entertainment site called "Beauty and the Dirt," in London. It was a first of its kind startup, founded and owned by women, and it was here that Rogers discovered her passion for writing.
Lindsay now works for Zara kidswear and often travels for business, which she feels fortunate to be able to do.
"My line of work now … it sort of has a stigma, working in fashion in general," she says. "I'd like to be able to change that."
Rogers is now pursuing her master's degree at NYU in hopes of doing exactly that.