WASHINGTON, D.C. — Hundreds of activists and advocates gathered in the nation's capital on October 8 as the Supreme Court of the United States heard oral arguments for three potentially landmark cases regarding LGBTQ+ discrimination in the workplace. 
The justices heard testimonies from workers from New York, Michigan, and Georgia who believe they were fired because they publicly identify as gay or transgender. Currently, there are 28 states that have little or no workplace protection for the LGBTQ+ community, including: Arizona, Florida, Michigan, Ohio, and Virginia. 
Despite the fact that the three cases are among the most-watched on the high court's 2019 docket, rulings will likely not be made until next year. In the meantime, meet the members of the court who hold the fate of the LGBTQ workforce in their – somewhat questionable – hands: 
John G. Roberts, Jr., Chief Justice of the United States, 64: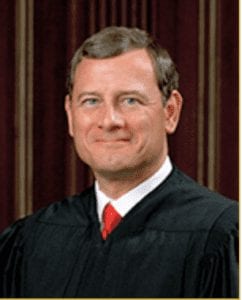 President George W. Bush nominated Roberts as a judge of the U.S. Court of Appeals in 2003 and two years later, nominated Roberts to fill the seat left by Sandra Day O'Connor when she announced her retirement. However, after his former boss, Chief Justice Rehnquist died, Bush withdrew his nomination in lieu of nominating him to Chief Justice of the Supreme Court of the United States. Though a conservative, Roberts has often sided with left-leaning members of the court. For instance, in 2014's King v. Burwell, which decided upon the constitutionality of the Affordable Care Act (ACA), Roberts supported the authority of the ACA. Unlike his Republican counterparts, Roberts also decided same-sex marriage was a constitutional right in 2015's landmark case, Obergefell v. Hodges. 
Samuel A. Alito, Jr., Associate Justice, 69:
President George W. Bush nominated Alito in 2006 and he took his seat not long after. He is one of the more conservative members of the court, most known for his majority opinion in 2014's Burwell v. Hobby Lobby. It stated family-owned corporations are exempt from laws requiring corporations to provide their female employees access to contraception coverage without cost. It was Alito's thought that granting access to contraception infringed upon a corporation's religious beliefs.

Stephen G. Breyer, Associate Justice, 81: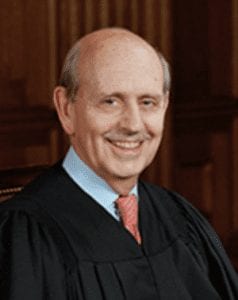 Before his two decades on the court, Breyer  served as a law clerk to Justice Arthur Goldberg of the Supreme Court of the United States during the 1964 Term, as a Special Assistant to the Assistant U.S. Attorney General for Antitrust, 1965–1967, as an Assistant Special Prosecutor of the Watergate Special Prosecution Force, 1973, as Special Counsel of the U.S. Senate Judiciary Committee, 1974–1975, and as Chief Counsel of the committee, 1979–1980. He went on to teach at his alma mater, Harvard Law School just before he served as a Judge of the United States Court of Appeals for the First Circuit and as its Chief Judge until President Clinton nominated him to the court in 1994. Though he is known for a fairly strict interpretation of the constitution and he recently refused to say whether or not he was a feminist, he did vote in favor of gay marriage in 2015.
Ruth Bader Ginsburg, Associate Justice, 86: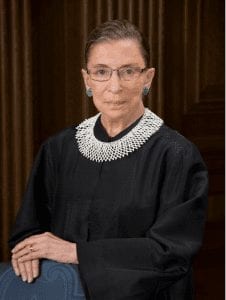 It's no secret the Brooklyn-born justice has become a certified feminist icon and her own kind of celebrity. Before the court, she was a Professor of Law at Rutgers University School of Law and Columbia Law School and a fellow at the Center for Advanced Study in the Behavioral Sciences in Stanford. She was instrumental in launching the Women's Rights Project of the American Civil Liberties Union, and served as the ACLU's General Counsel for nearly a decade before her appointment to the United States Court of Appeals for the District of Columbia Circuit in 1980. It would be during President Clinton's administration that she finally landed on the court. She has a history of bold dissenting. For instance, in Ledbetter v. Goodyear Tire & Rubber Co. in which the plaintiff, a female worker realized she was paid significantly less than males with identical qualifications, sued under Title VII but was denied due to a statute of limitations issue. Ginsburg not only penned a dissent that she read from the bench, but she also worked with President Obama to pass the Lilly Ledbetter Fair Pay Act of 2009, the first piece of legislation he signed. Ginsburg has proven to ally with womxn and minorities in most cases and will likely do the same in 2020.
Neil M. Gorsuch, Associate Justice, 52: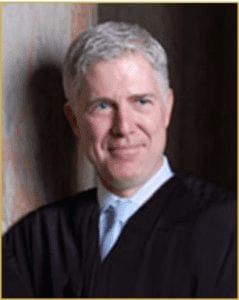 After earning a B.A. from Columbia University, a J.D. from Harvard Law School, and a D.Phil. from Oxford University, Gorsuch served as a law clerk to Judge David B. Sentelle of the United States Court of Appeals for the District of Columbia Circuit, and as a law clerk to Justice Byron White and Justice Anthony M. Kennedy of the Supreme Court of the United States. He was the first appointee of President Donald J. Trump in 2017 and to no one's surprise, favors the right. For example, his most notable appellate opinions include Gutierrez-Brizuela v. Lynch which argued against Chevron deference. Gorsuch has publicly supported the Gulf War in addition to congressional term limits, on "a campus full of ardent liberals." 
Brett M. Kavanaugh, Associate Justice, 54: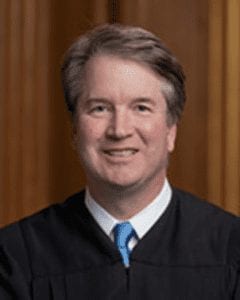 Despite being most known for credible allegations of sexual assault and harassment by a number of women, Brett Kavanaugh was appointed to the court last October. He was a partner at a Washington, D.C., law firm in the late 1990's and from 2001 to 2003, he served as Associate Counsel and then Senior Associate Counsel to President George W. Bush and later, Assistant to the President and Staff Secretary for President Bush. He was appointed a Judge of the United States Court of Appeals for the District of Columbia Circuit in 2006. Thus far, Kavanaugh has proven to be somewhat of  a wildcard and sided with both the right and the left sides of the court. 
Elena Kagan, Associate Justice, 59: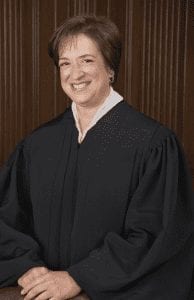 After clerking for Justice Thurgood Marshall of the U.S. Supreme Court during the 1987 term, Kagan became a law professor – first at the University of Chicago Law School and later at Harvard Law School – and served for four years in the Clinton Administration as Associate Counsel to the President and later the Deputy Assistant to the President for Domestic Policy. In 2009, President Obama nominated her as the Solicitor General of the United States and a year later to the Court. She is the youngest sitting judge, has no prior judicial experience and has proven surprising to some. During her confirmation hearings, she made a comment that she didn't believe same-sex marriage was constitutional, yet voted in favor of the liberal majority on Obergefell v. Hodges. Fortunately, in most cases, she is more likely to side with Justice Ginsburg than Clarence Thomas and it would not be a stretch to imagine she'll maintain that record in these cases.
Sonia Sotomayor, Associate Justice, 65: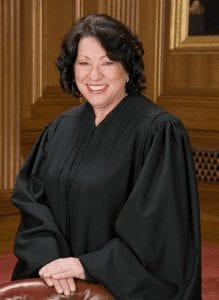 The fiery, Bronx-born judge was nominated to the U.S. District Court, Southern District of New York in 1991 and went on to serve as a judge on the United States Court of Appeals for the Second Circuit for over a decade. President Barack Obama nominated her as an Associate Justice of the Supreme Court – the first Hispanic and the third woman – soon thereafter and has maintained a record that sides with womxn, minorities and working-class people. Sotomayor has specifically fought for the protection of affirmative action programs. In Schuette v. Coalition to Defend Affirmative Action, which held that prohibitions to state universities from considering race in admission decisions was constitutional, she penned a 58-page dissent. She has also joined the liberal majority on recent landmark cases like Obergefell v Hodges, which legalized gay marriage, and has voted to uphold the Affordable Care Act twice.
Clarence Thomas, Associate Justice, 71: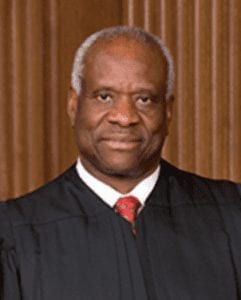 Much like the most recently appointed member of the court, this justice is perhaps most known for the highly-publicized Anita Hill scandal in which he was accused by Professor Hill – a  former colleague at Department of Education and the EEOC – of sexual harassment. President Bush nominated him as an Associate Justice of the Supreme Court and despite the credible allegations waged against him, was appointed not long thereafter. Thomas, the second black justice to serve on the court, almost invariably sides with his conservative colleagues in his decisions. He penned the conservative majority opinion in Good News Club v. Milford Central School,  which stated that Milford Central violated the First Amendment after it refused to allow Good News Club — a group that touts "a fun time of singing songs, hearing a Bible lesson and memorizing scripture"—was deemed to be the equivalent of religious worship which violated the school's policies. Thomas has twice called on the court to reverse Roe v. Wade, in one case drawing comparisons between birth control and Planned Parenthood to the eugenics movement.