December 9, 2019
Categories
Share
The Alley website

NEW YORK – The Alley, a white-slab tea shop at Cooper Square, Manhattan, has made one word synonymous with healthy living: sugar. It's not that some chemist has cracked the code to sweeteners that pass through the body without 'really' touching it. Nor has some miracle pill been discovered that changes the taste of kale to sweet.  Instead, the Alley uses sugar grown deep in the mountains of Taiwan and enhanced with a tool linked closely to its origins: marketing.
As Derrick Chang outlines in his piece for CNN, bubble tea, the Alley's main offering, comes to marketing naturally. Forged in the crucible of a marketing meeting at Chun Shui Tan, at the time a small tea shop in Taichung, Taiwan, the drink was the result of a manager gone rogue.
Bored during a product brainstorm, the manager flipped the Fen Yuan tapioca balls she had bought as a snack into the company's sweetened powdered milk tea. The result outsold all of Chun Shui Tan's other drinks – and became the basis of what Coherent Market Insights estimates is a 2 billion dollar per year global industry.
So what makes the Alley's approach to tea so different that dozens of customers lined up for their opening shift? Interviewed by The Click, Michelle Huang, a former 'tea-rista' who prepared drinks at another Taiwanese bubble-tea brand, pointed to a key difference.
Typically Bubble tea consists of four main ingredients: A strong black tea, as in Chun Shui Tan's original recipe, Assam; a creamer, traditionally powdered milk, meant to smooth the drink's texture; a sweetener, usually cane sugar to balance the tea's astringency; and a topping, such as Chun Sui Tan's famous sugar-coated tapioca, although lemon jelly, and even pudding are common alternatives.
The Alley's bubble tea however adds an additional layer of flavor to the standard Assam by adding blueberry. The effect, according to Huang, is a brighter, less obviously sweet beverage.
Drinks by Sugar Content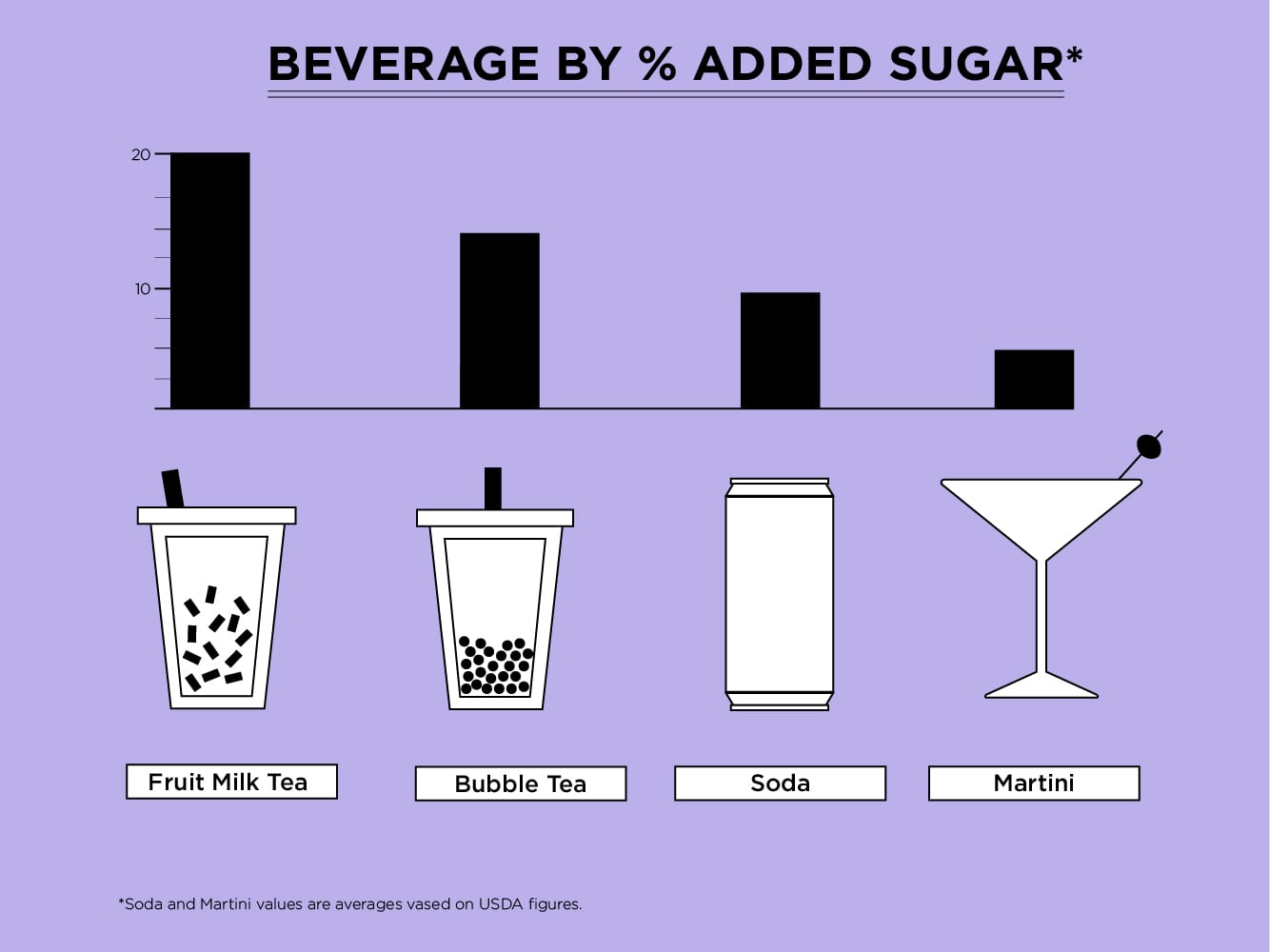 Infographic by Zak Fleishman
However Huang cautions against associating fruit flavour with health. "The fruit drinks are actually the least healthy bubble teas. They're made with all the sugar of regular milk tea and then add fruit syrup. It's just pure sugar."
And all that sugar adds up. In a typical bubble tea, Huang estimates, 10% of the beverage is cane sugar, even before adding ingredients with sugar-additives such as tapioca, or flavoured syrups. That means for a standard small-size drink of 500 ml, 50ml, or roughly the amount held in a perfume bottle, is sugar.
With Tapioca usually filling another 15% of the cup, and powdered milk used as the creamer, as used in most of the Alley's beverages, the total sugar content for a single drink can exceed 175ml. That's more than three times the amount of sugar as in the same amount of Coke.
Although some brands have taken steps to reduce this monolithic sugar content, by using whole instead of powdered milk for example, or by emphasizing that patrons can specify the sugar content of their beverages before they order, Huang says she will still be ordering her weekly bubble tea as normal.
"I know it's unhealthy" she says, "without sugar, without milk powder, that's just not bubble tea."