December 10, 2019
Categories
Share
Sitting on a couch in her modest living room, Linda Richards reflected on days gone by in the housing community she calls home. "We were like family. Everybody looked out for each other. Not like today," she says. She recalls when residents would host parties in the community room, and everyone would wear their best outfits. "It was lovely," she continues, "I mean, we were really, really…" Her voice trails off as she chokes up, holding back tears.  The bittersweet memories remind her of a time when the place she's lived for over 50 years meant so much to the residents who lived there. "Pride, that's the word."
Richards is an original resident of Esplanade Gardens in Harlem, New York.  She moved into the complex as a teenager, with her parents. "Moving in here, you felt like it was a step up.  It was just a way of life … you were improving … how you lived. It was like a goldmine." While the surrounding areas were still were run down and people were struggling, Esplanade was "beauty all over," she explained. 
Although she still considers it a gem, Richards struggles with the differences between what she refers to as "the glory days" and the Esplanade Gardens of today. From new management and new residents to the concern that she and other long-time residents share about gentrification and how change will affect them. For her, Esplanade Gardens will always be home. "I am not going anywhere." 
ESPLANADE GARDENS 
African Americans have long strived to achieve The American Dream.  Yet, despite the landmark Civil Rights Acts of 1964, they still found themselves discriminated against when it came to finding decent housing or attempting to purchase a home. The lingering effects of slavery, Jim Crow laws, and institutionalized racism, made it almost impossible for many blacks to ever reach their goal of owning a home.  
There were some African Americans, however, who found a beautiful gem in the heart of Harlem, where the black population stood at 96.71% in the 1960s. That place was Esplanade Gardens. Despite the community's struggling with racial tensions, crime, and substandard housing and education, that housing complex symbolized hope.  
Esplanade Gardens is a cooperative housing development made up of six buildings, 27 stories each, with a total of 1,870 apartments.  The first building went up in 1967, a year before the landmark Fair Housing Act which prohibited discrimination in housing based on race, sex, national origin, or religion  The complex sits in the heart of Harlem and has long been a sought-after residence. The property was part of the Mitchell-Lama housing program which was sponsored by New York State Senator MacNeil Mitchell and New York State Assemblyman Alfred Lama in 1955. The initiative was designed to provide moderate to middle-income families the opportunity to buy into a co-op at affordable pricing.  
William Chester moved into Esplanade Gardens in 1967.  He and his wife of 54 years have lived in the same apartment ever since.  "Once you got a co-op you felt like you was in the know because there wasn't too many people that … owned co-ops," he said.   "Mr. Bill," as he is affectionately known, misses the days when Esplanade was exclusive. "We were one happy family. Everybody couldn't get in here. It's just changed. You don't even know who your next door neighbor is."  The 80-year-old said new residents don't bother him. "I treat everybody the same." But he is concerned that changes might be "bad for some people, but good for others,' and is confident that "sooner than later" owners will increase rent to the point where blacks can't afford to live in Esplanade. "I don't know if I'll be around to see that.  I'll do what I can to stay here."
EVERYTHING MUST CHANGE
In 2018, Esplanade Gardens' management company of 14 years resigned. After just one year, new management proposed a rent increase and began a multi-million dollar capital improvement project.  Some residents saw this as a sign that plans were in the works to privatize the complex and force them out, similar to suspicions at neighboring complex Lenox Terrace whose owners want to expand that development. The community board voted against the plan, and Esplanade residents are watching to see what happens next. A win for the developers would set a precedent for other owners. 
Nicole Duncan, Property Manager at Esplanade, is the first to admit "change does not come very easy here at all."  She understands the fears of residents, many of them seniors. Duncan has worked at Esplanade for 12 years. The challenge she faces is getting buy-in from residents. Gentrification hit Harlem and Esplanade Gardens was not immune. It "opened up the current shareholders' eyes a little more," Duncan said. "Anybody can be qualified. Anyone can apply."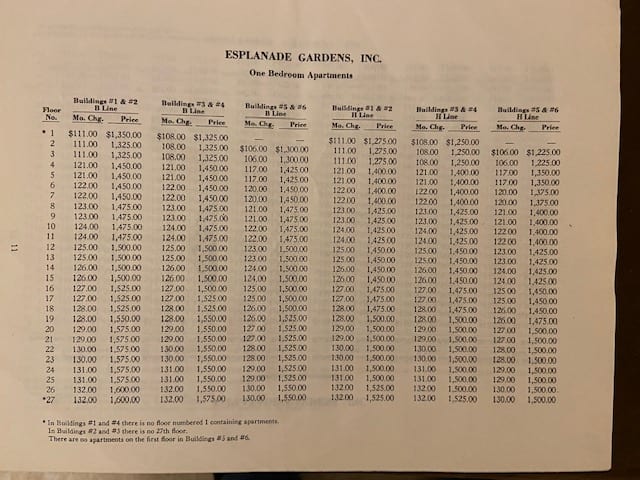 THE BEST DEAL IN TOWN (IF YOU CAN GET IN)
Esplanade Gardens has always been exclusive. It provides spacious apartments, terraces, security, maintenance, parking, community rooms, laundry facilities, and is the only complex in Harlem to have an Olympic-sized pool. 
It could take 10 years before you were called off the waiting list.  If you got in, it was well worth the wait. Generations of families have lived in the complex. Now newer residents have made their way in, and they're looking forward to building their own traditions.
Sheel Spina moved into Esplanade Gardens in 2016 with her husband Mike and their two small children. Spina, who is from India, first came to Harlem from Westchester back in 2005. They always thought Esplanade would be an awesome place to live.  A lottery drawing made that possible.  
Spina says she's never felt like an outsider, but noted that her husband (who is of Italian descent) "felt like one of the gentrifiers back…in 2002, but since that point it's blown up," as she has witnessed an influx of young, white professionals moving into Esplanade.   For her, it's been a great place to live. "I would love to retire here! That is our dream."
Resident Tania Ochoteco and her family moved into Esplanade Gardens in 2015 and felt right at home.  Admittedly, Ochoteco knew nothing about the complex and its rich history before being contacted. That's when she started to research the property and found out just how special it is. "There's a real sense of community here … that feeling of family." 
So Esplanade Gardens, in spite of all of the changes, still remains a gem in the midst of Harlem. Concerns of older residents, along with the enthusiasm of the new, keeps them all involved to ensure that Esplanade continues to be an affordable place to live and a community where families can plant roots for generations. 
Management continues to work hard to reassure residents that the changes will be in their best interests.  But for Richards, the jury is still out. "It's … hard to tell," she said. "I see them trying to get back on track. They need time. I still think it's a great place to live."