November 3, 2020
Categories
Tags
Share
Bikers gear up to ride to the polls. [Credit: Micaiah Kimble-Glover]
(ATLANTA) — The motorcycles zooming through the city of Atlanta on Oct. 17 weren't just making noise. They represented the voices of women nationwide exercising one of their most sacred rights.
As a group of women gathered at the South Dekalb Mall that afternoon in support of the Biden-Harris campaign, their goal was to make their presence known by riding their motorcycles through Atlanta to place their ballots in a designated dropbox.
The event started with a call-to-action by Porsche Taylor, the founder of Black Girls Ride Magazine. At a march held on Aug. 28—the anniversary of the March on Washington—Taylor gave a speech and invited those in attendance to ride their motorcycles to the polls and "vote like their life depended on it." 
The subsequent Black Girls Ride to Vote event spanned across multiple cities, including New York, Richmond, San Diego, and Atlanta. Riders were expected to show up on their motorcycles with their absentee ballots filled out. From the meeting place, they would drive through the state's capital revving their engines and making noise in support of former Vice President Joe Biden's presidential campaign.
"We have a voice, and we need to exercise that voice. So many people have died to give us this right," said Georgia's ride leader, whose nickname is FeeNom. "As Black women, we need to be heard."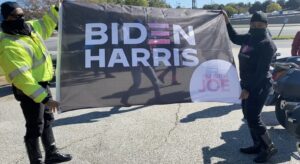 FeeNom and officer unfold a Biden-Harris flag. [Credit: Micaiah Kimble-Glover]
Black Girls Ride was originally established to amplify the voices of Black women in the biking industry. The platform has since transformed into an all-inclusive initiative, representing all women worldwide.
"It is very important for Black women to get out and vote because they have left us behind so far, and we have to choose the right leadership," said Jennifer Posey, a rider who participated in the event.
Georgia is in a unique political position as voters head to the polls to choose representatives for both the senate and the presidency. The state has swung red traditionally, but the 2020 election has the potential to turn the state blue. Democrats in Georgia broke records during the June 2020 primaries when nearly 1 million collective ballots were cast for senate and presidential seats. This record turnout had not been seen since the 2008 election.
As of September, 1,180,362 black women were registered to vote in Georgia. "Your voting this year can affect generations to come," FeeNom told the crowd at Black Girls Ride. "So show your power in your vote."