A mural near Logan Street Market welcomes passersby to the Shelby Park neighborhood. Photo by Michelle Eigenheer
LOUISVILLE — When the Save-a-Lot on Shelby Street closed suddenly in October 2018, residents of Louisville, Kentucky's Shelby Park neighborhood were caught off guard. Nine months prior, the Kroger in neighboring Old Louisville closed, as well.
"The last day the Kroger on Second Street closed, I was there at a rally, crying," said Chip Rogalinski, who has been president of the Shelby Park Neighborhood Association for the better part of eight years.
"And then I really cried when I saw two elderly amputees in wheelchairs wondering how they were going to buy food." Rogalinski told The Click. "The company cited problems with a lease negotiation as the reason for closing the store, but it's just one in a list of the area's grocery stores that have closed in the last several years."
Shelby Park is a neighborhood undergoing the familiar changes that can be seen in countless cities. As residents struggle to access groceries, pharmacies and other services, art galleries, whiskey bars, and cafes have opened in the old buildings along the main thoroughfares. The change has attracted new residents and visitors, while the cost of living has steadily increased.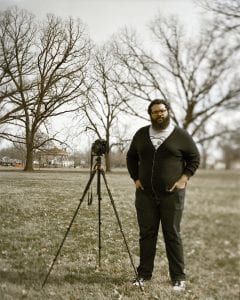 Andrew Cenci is a photographer who moved into the neighborhood with his wife, Sara, when the rent at their nearby Schnitzelburg apartment went up. Five years later, the Cencis have just purchased their own home in the neighborhood.
It's in Shelby Park that he began pursuing film photography, honing his skills and style on walks around the neighborhood. This year, he began photographing residents in their homes.
"It's been interesting to see the neighborhood change. Certain people who have lived in the neighborhood for a long time still live here and love the changes that are happening," Cenci said. "There are some people, like my neighbor of a long time, who are leaving and moving out."
It's complicated, Cenci knows. He wonders if the changes, like the new public market, are working for the people who live in the neighborhood, or are just a draw to bring in new folks. And if it's the latter, is that a bad thing? He wonders if they're employing people from the neighborhood.
"These are just questions that I have," explained Cenci. "There's good stuff going on in the neighborhood, but where does everything fit?"
A year after the Save-a-Lot closed, Logan Street Market opened its doors. The open market is the first of its kind in Louisville, featuring 30-plus vendor booths, a bar, microbrewery, coffee roastery, weekly farmer's market, and a bodega stocked with farm-fresh produce. With seafood and spice vendors, arepas and a Jewish-style bagel shop, the market seems a promising start to addressing something the area needs: fresh food options.
The neighborhood association has been cultivating partnerships to address these kinds of community needs. When entrepreneurs announced plans to open Trouble Bar, the neighborhood association wanted assurances that food will be part of the concept. While they're not cooking anything themselves, they have relationships with food trucks that service patrons, Rogalinski explained.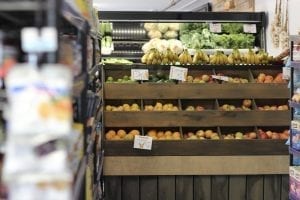 A Changing Housing Market
When discussing Shelby Park's economic growth, mentions of Germantown and Schnitzelburg are hard to avoid. The neighborhoods are separated by railroad tracks, and some credit Shelby Park's growth to spillover from Germantown's boom.
In Germantown, the old mill, which had housed an antique mall for decades, was converted into lofts. A speakeasy opened and the old corner shop closed. A restaurant-brewery opened across from the neighborhood's beloved diner.
As outlined in the May 2016 cover story of Louisville Magazine, "New Life And Old In Germantown," the surge in popularity and subsequent rise in prices slammed the door on a class of prospective residents, and existing residents bemoaned increased rent and property taxes.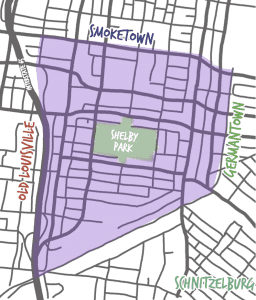 According to the home value index evaluated by real estate database Zillow, Germantown home prices began to rise in early 2013. At that time, the median home value was estimated at $83,400. As of August 2019, this has steadily grown to $169,000.
The same database estimates that in August 2014, Shelby Park's median home value was $74,400 and began to rise — as of August 2019, it's reached $121,000.
Shelby Park has a number of vacancies — nearly 300 of its 1,448 housing units were reportedly vacant in summer 2017 — and the Landbank Authority came under fire in the neighborhood last year when a property it sold was demolished instead of renovated. But community organizations such as River City Housing and New Directions Housing Corporation are working with the neighborhood association to develop properties in Shelby Park and keep it income-diverse.
Max Monahan, New Direction's assistant director of home ownership preservation, has worked in the Shelby Park neighborhood for eight years.
"We like to say we do some for the mission and we do some for the margin," said Monahan, laying out New Directions' development strategy. Of the seven homes the organization currently has under development in Shelby Park, four will list at market value. The other three homes will list below market value to sell to income-qualified buyers.
"We only sell them to moderate income individuals," Monahan told The Click. "So they have to make less than 80% of the area median income which, for a single person household, is $42,000 a year."
The organization's home ownership preservation program offers existing homeowners support with basic home repair and even big rehab projects like installing new roofs and furnaces — they also help residents apply for tax assessment appeals, as well as disability exemptions and Homestead exemptions for their property taxes.
As he drives through Shelby Park, Monahan pulls over to point at one of the big two-story Oak Street homes that backs up to the park and explains that when New Directions purchased it, they noticed a house across the street that was also in need of some work. Monahan knocked on the door of the home and explained what they were doing – and asked if the homeowner needed any help with her property. Following her husband's passing, she did need a bit of help.
"This was her castle, she'd paid it off and it's where she wants to stay," he explained. He points at the pink and tan cedar shake siding of the gable. "Through the Repair Affair program, we did the historic paint scheme." After that, they helped rebuild a bathroom and connected her to a city program to help eradicate lead paint hazards.
"We're proud of our real estate development," Monahan continued. "But we're also helping existing homeowners in this neighborhood … there are a lot of residents who've been [here] for 30 years. And now that Shelby Park is going through a revitalization, we want to make sure that these people get to stay and participate in it. Because they're the ones who invested in it when it wasn't the cool kid in school."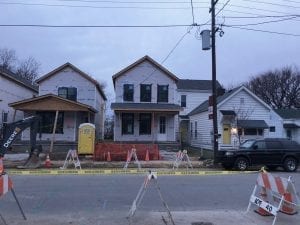 What are the residents participating in? For some, it's improvements to the park, one of eight that famed designer Frederick Law Olmsted built in Louisville as part of his grand design for an interconnected park system. This spring, PNC Bank donated a music garden to the park. Neighborhood kids play basketball or make music at AMPED in the park's community center; churches hold picnics; and citywide events sometimes make their way to the park.
For others, it's visiting one of the neighborhood's two art galleries, working in the community garden, attending a neighborhood church, or volunteering at the Open Hand Kitchen at St. Vincent de Paul, which feeds 200,000 Louisvillians annually, according to Rogalinski.
"A mortgage banker [told me], 'Maybe you don't want to mention that if you're trying to get people to move here,'" Rogalinski recounted. "And I told her that's not the kind of neighbor I want to have."